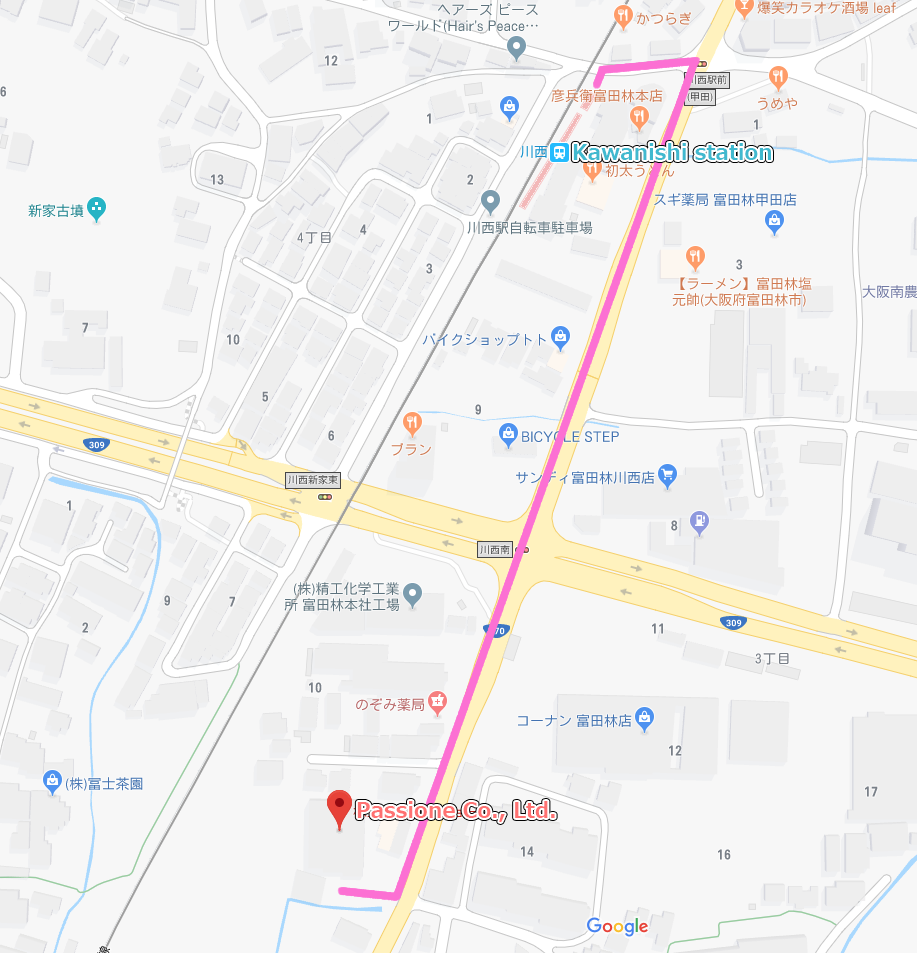 ・When you arrive at Kawanishi station , go to right direction. And trun right at the first corner which you'll see soon.
・go straight and cross the big intersection . there is ENEOS(gus station) on the right
・just after passed ENEOS you can see one building on the right path. this building is our company
access from Shinkansen(Shin-osaka station) train(Tennoji , osaka abenobashi station) to Kawanishi station
・transfer from JR to Osaka Metro midousuji Line at Shin-osaka station and get off at tennoji station
・go to Osaka Abenobashi station at Kintetsu Minamiosaka Line from tennoji station by walk , take a train bound for Kawachinagano then get off at Kawanishi station
access from Kansai International Airport
type1
・get on a JR Kansai airport line at Shin-osaka station , get off at Tennoji station
・go to Osaka Abenobashi station at Kintetsu Minamiosaka Line from tennoji station by walk , take a train bound for Kawachinagano then get off at Kawanishi station
type2
・get on a Nankai Electric Railway airport line at Kansai airport station , transfer to Nankai koya line at Tengachaya station and get off at Kawachinagano station
・transfer to Kintetsu Nagano line and get off at Kawanishi station
*there are other route but we write easy one
access from Osaka International Airport (Itami Airport)
type1
・take a Airport Limousine bus bound for tennoji station , get off at Tennoji station
・go to Osaka Abenobashi station at Kintetsu Minamiosaka Line from tennoji station by walk , take a train bound for Kawachinagano then get off at Kawanishi station
type2
・get on Osaka monorail at Osaka airport station , transfer to Kitaosaka kyuko line at Senrichuuou station and get off at Tennoji station
・go to Osaka Abenobashi station at Kintetsu Minamiosaka Line from tennoji station by walk , take a train bound for Kawachinagano then get off at Kawanishi station
*there are other route but we write easy one
※Important point
・If you get on yoshino line , you have to change train at furuichi station again
 Plese make sure take a train bound for Kawachinagano
・Even you take a right train , sometimes train will be separated at Furuichi station.
 If you get on wrong train car , you might go to Yoshino.
 So you should check destination indication , when you get on the train and please listen carefully to the announcement.
 If you feel anxiety , you should ask station attendant before get on a train.